Some iPhone and iPad users seem to be experiencing a curious bug in Safari right now, with the app crashing when certain search terms are entered. The bug has persisted since last night, from what we can tell, and affected users are running a variant of iOS 16, although there are user reports of iOS 15 as well.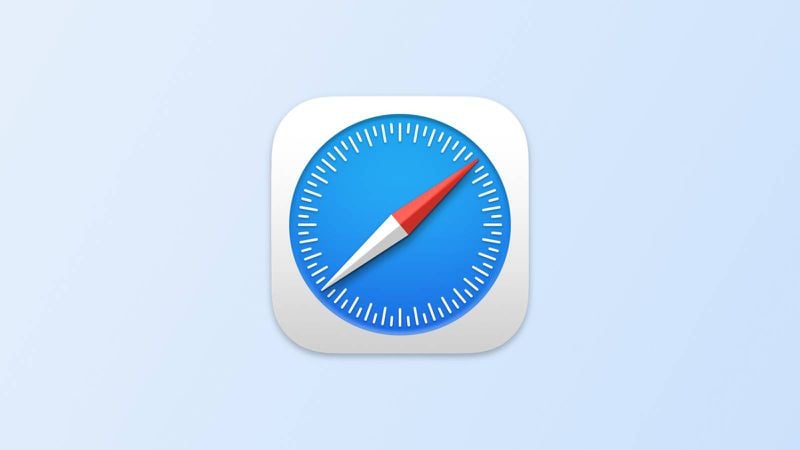 Reports suggest that Safari crashes after typing the first three letters of selected words in the search bar, and the cause of the problem is unclear. We have seen reports of "tar", "bes", "wal", "wel", "old", "sta", "pla" and other words causing the app to crash. What happens is people try to type in something like "Walmart" or "Starbucks" or "best" and don't get past the first three letters before Safari crashes.
@AppleSupport Hello, I have a very strange problem with my new iPhone 14 and my mother's new iPhone 14. When we start typing Walmart "Wal" into the search engine, the phones instantly close Safari. See the video below.. please help? pic.twitter.com/P5mq1ahaih
— 805 🇺🇸 (@Dakodes) November 14, 2022
The cause of this issue is unclear, and not all users seem to be affected at this time. This affects those running iOS 15.7.1, ‌iOS 16‌, iOS 16.1, iOS 16.1.1 and the iOS 16.2 beta, and Apple appears to be aware of the issue due to user reports provided to the development team. 'assistance.
@rsgnl @MacRumors super weird bug confirmed on two iPhones (home network and cellular). Open Safari, start typing the best word and hit the space bar. Safari crashes completely! I was trying to search for "best wallpapers…" but I can't seem to access the wallpapers lol. — Chris Weaver (@chrisbweaver) November 14, 2022
Since this issue appeared overnight, it's likely some sort of server-side bug that Apple can fix without an iOS update.
Update: The Safari crash bug has now been fixed.
Related stories
Some iOS 16 users complain about slow Spotlight search and battery drain
It's been nine days since Apple released iOS 16, bringing major changes to the lock screen, messages, maps, and more. In the days following the release, some users encountered several issues on their iPhones, ranging from slow system performance to battery drain. Over the past few days, iPhone 14 Pro users have been sharing specific bugs related to Apple's latest high-end iPhones,…
Safari 16.1 adds support for Passkeys, Web Push, Apple Pencil Hover and more
Along with macOS Ventura, iOS 16.1, and iPadOS 16.1, Apple introduced Safari 16.1, which brings a number of new features to Safari on Apple's platforms. Safari 16.1 comes with iOS 16.1, iPadOS 16.1, and macOS Ventura, but it's also available on macOS Monterey and macOS Big Sur. The update includes Web Push for macOS Ventura, allowing websites and web apps to send notifications…
Apple Readies iOS 16.1.1 as Widespread Wi-Fi Bug Persists
Apple is preparing an iOS 16.1.1 update for the iPhone to address bugs and issues users were experiencing following the first major iOS 16 operating system update two weeks ago, including a persistent Wi-Fi bug that has annoyed iPhone customers. MacRumors over the past week has seen signs of devices running iOS 16.1.1 in our website scans, indicating that the update is being tested…
Some iPhone users can't update apps after installing iOS 16 [Update: Fixed]
It seems that there is a problem with the App Store, as some iPhone users who have updated found themselves unable to install apps. MacRumors has received multiple reports from people experiencing an issue that appears to be caused by an updated terms and conditions page. After installing iOS 16, attempting to update the app directs affected users to a new terms and conditions page….
Apple releases iOS 16.1.1 and iPadOS 16.1.1 with bug fixes
Apple today released iOS 16.1.1 and iPadOS 16.1.1, minor bugfix updates that come two weeks after the launch of iOS 16.1, an update that added support for the iCloud shared photo library, Matter, Live Activities, and more. iOS 16.1.1 and iPadOS 16.1.1 updates can be downloaded to eligible iPhones and iPads directly by going to Settings > General > Software Update. iOS 16.1.1…
New iOS app blocks annoying 'Open in App' pop-ups in Safari
You've probably visited a website like Reddit or LinkedIn on your iPhone only to be greeted with an annoying, almost full-screen pop-up prompting you to view content in their app instead of on the website. It's a common practice for websites that come with iOS apps to trick users into opening (if they've already installed the app) or downloading their app from the App Store to…
Apple prepares iOS 16.0.3 with more bug fixes after iPhone 14 launch
iOS 16.0.2 was released last month with several bug fixes for iPhone 14 issues, excessive copy-and-paste permission prompts, and more. Now the evidence suggests that Apple plans to release iOS 16.0.3 with additional bug fixes. Evidence of an upcoming iOS 16.0.3 software update has appeared in MacRumors scan logs, which have been a reliable indicator in the past. There are many…
popular stories
Best early Black Friday deals on Apple TV 4K, AirPods, iPad, MagSafe, and more
Although we're still two weeks away from Black Friday on November 25, we've started to see a lot of solid deals coming in on Apple products, like the first Black Friday discounts we shared on MacBook Pro and MacBook Air. In this article, we're focusing less on a specific device and more on Apple in general, with early vacation discounts on Apple TV 4K, iPad, AirPods Pro, MagSafe accessories, and more. NOT…
Top Stories: iPhone 15 Rumors, iOS 16.2 Beta 2 Changes, And More
Things are starting to calm down for 2022, although we're not quite there yet with a few more things on Apple's plate, including iOS 16.2, which is in beta testing with new features and tweaks. Looking further into the future, we're expecting a lot of news for 2023, with the iPhone 15 naturally being the flagship launch of the year, and we're already hearing good…
Apple releases new firmware for AirPods 2, AirPods 3, AirPods Pro 1 and AirPods Max
Apple today introduced new firmware 5B58 for AirPods 2, AirPods 3, original AirPods Pro, and AirPods Max, starting with firmware 4E71 which was released in May. Apple released firmware 5B58 for the AirPods Pro 2 earlier this week. Apple doesn't offer immediately available release notes on what's included in updated firmware updates for the AirPods‌, but the company…
Apple faces class action lawsuit alleging it tracks users despite privacy safeguards
Apple is facing a proposed federal class action lawsuit alleging that it records users' mobile activity without their consent and despite privacy safeguards, in violation of the California Invasion of Privacy Act, Bloomberg reports. In a lawsuit brought by New York citizen and iPhone 13 owner Elliot Libman, Apple is accused of "completely falsely" ensuring that users control what information…
Best Early Black Friday deals on MacBook Pro and MacBook Air
We're two weeks away from Black Friday on November 25, but as we know, Black Friday shopping is more of a month-long event than a one-day event. For that reason, we're already tracking many great deals you can get on Apple's MacBook Pro and MacBook Air lineup today, and that's what we're focusing on in this article. Note: MacRumors is an affiliate partner with some…
Apple releases iOS 16.1.1 and iPadOS 16.1.1 with bug fixes
Apple today released iOS 16.1.1 and iPadOS 16.1.1, minor bugfix updates that come two weeks after the launch of iOS 16.1, an update that added support for the iCloud shared photo library, Matter, Live Activities, and more. iOS 16.1.1 and iPadOS 16.1.1 updates can be downloaded to eligible iPhones and iPads directly by going to Settings > General > Software Update. iOS 16.1.1…
#iPhone #iPad #Users #Strange #Safari #Crashes #Searching #Update #Fixed